Advanced Technology Solutions
ADVANCED TECHNOLOGY SOLUTIONS
PROCESS & OPERATIONAL SUPPORT
TAX PLANNING STRATEGY & PREPARATION
Estate, Philanthropy & Legacy Planning
Cutting-edge technology solutions
Our technology consultants focus on critical family office procedures and provide the key automation needed to streamline functionality and improve reporting. We help you leverage technology to improve your finance and accounting functions.
Accounting software and various databases managing your family office finances and functions is a piecemeal method that may not provide the functionality, consistency, or consolidation necessary for reporting or compliance. Leveraging advanced technologies can create efficiencies and provide more opportunities for your family to examine investment activity and aggregate accounting systems, as well as automate bill paying and other functions.
For instance, ultra-affluent families need timely, accurate and complete transparency with respect to their investment portfolios. Unfortunately, family office leadership must often rely on dated quarterly investment performance information. Working from separate spreadsheets and proprietary reports from individual managers makes it difficult to consolidate the performance of all investments.
This lack of transparency across investment portfolios can frequently result in poor decision-making. Back-office operations is another area where technology could improve decision-making and operational efficiencies.
REID's cutting-edge technology offers several benefits to planning and executing your wealth strategy.
Automate manual accounting operations
A general ledger built right in
Create journal entries automatically as you perform key investment and administrative activities like buying and selling stocks, fulfilling private equity calls and transferring cash.
Cash management made easy
Handle complex capital movements between equity and bank accounts through easy-to-use accounting tools.
Don't forget the AP tools
Track bills, manage budgets, write checks, store invoices and apply workflow controls to manage your firm's bill pay operations.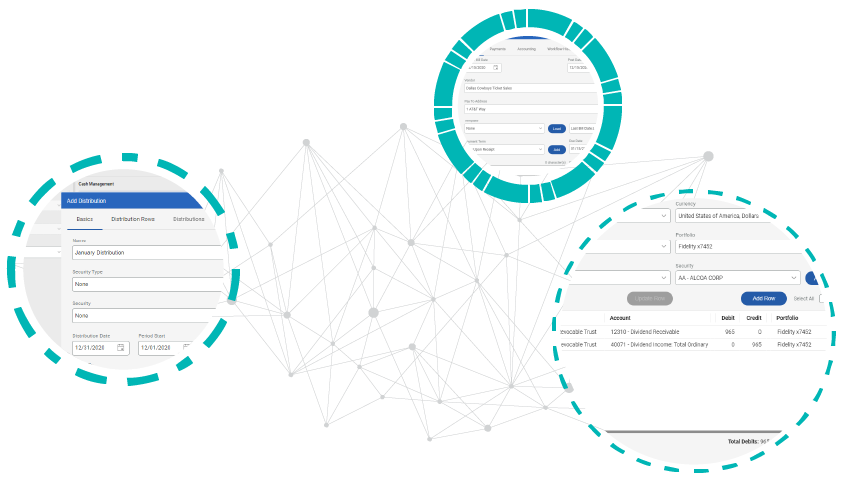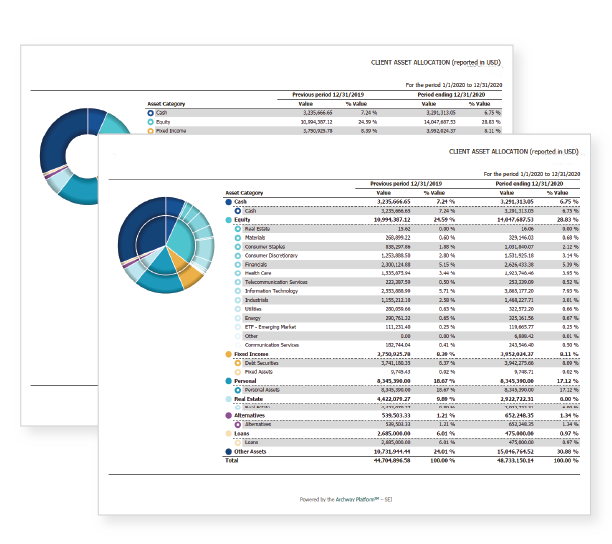 Gain a complete view of your wealth
Advanced account aggregation
Analyze consolidated financial data across custodians, managers, accounts, entities, asset types and currencies – and then break it down again for in-depth analysis and gainful insights.
Automated data collection
The Archway Platform features automated, direct data feeds with custodians, prime brokers, banks and pricing sources so you receive updated, reliable daily transaction, position and cash detail.
Comprehensive asset tracking
Consolidate your equity, fixed income, hedge fund, real estate and private equity investments alongside business interests and personal assets including homes, yachts, planes and jewelry – all within the Archway Platform.
Elevate your reporting options
Sophisticated financial reporting
Produce comprehensive, customized report packages using 200+ standard reports, available on-demand and generated in an efficient, accurate and timely manner.
Advanced investment analytics
Understand benchmark performance, compare models to actuals and assess your exposure and portfolio risk to make smarter investment decisions.
Interactive reporting dashboards
Gain instant access to crucial performance, asset allocation and account balance information at-a-glance to simplify day-to-day investment activities.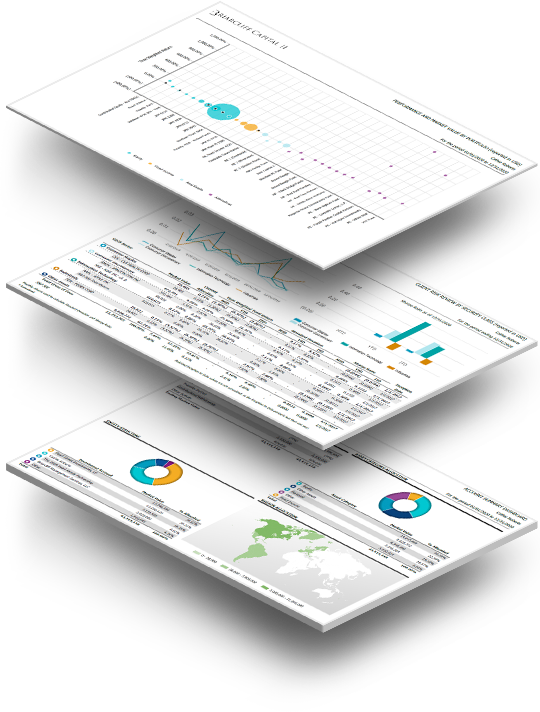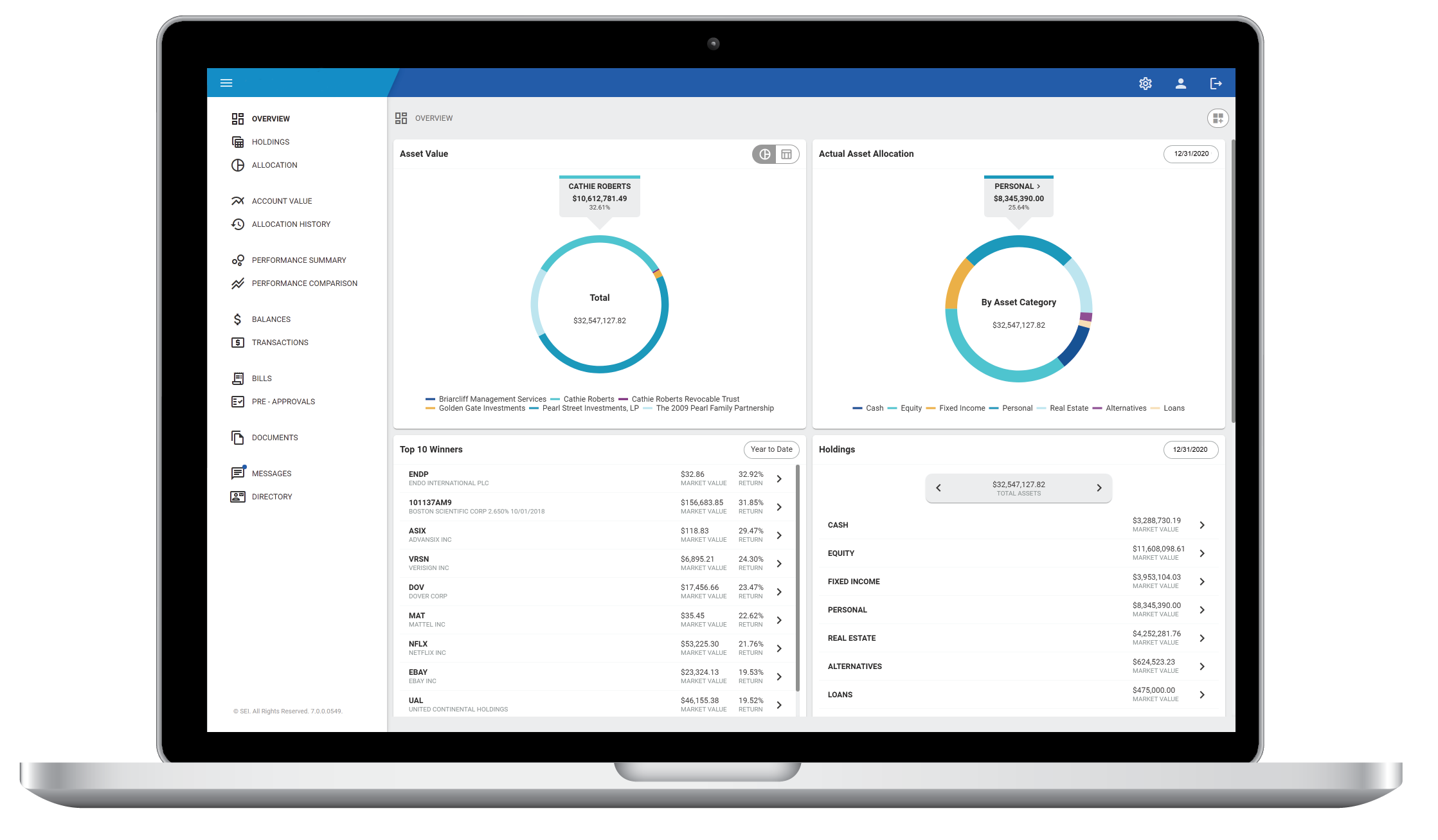 A powerful reporting tool that simplifies complex tasks
Reporting should be sophisticated but flexible, elegant but meaningful and secure but accessible. The Client Portal delivers a compelling way to analyze and present complex financial information to our high-net-worth clients.
With interactive reporting dashboards, customizable data views and organized document storage, the Client Portal is a highly secure, bank-grade reporting tool that can share consolidated wealth information with your clients on any device, at any time.
A single, comprehensive view of your net worth
See the big picture
Present a consolidated, accurate net worth picture by combining your clients' equity, fixed income, hedge fund, real estate and private equity investments alongside their business interests, cash accounts and personal assets.
Automated data collection and delivery
Enable standardized analysis across multi-source data with user-defined data groupings like asset class, sector or strategy.
Comprehensive asset tracking
Aggregate and present data automatically across custodians, accounts, managers, investment types and currencies – all within a simple, elegant online reporting portal.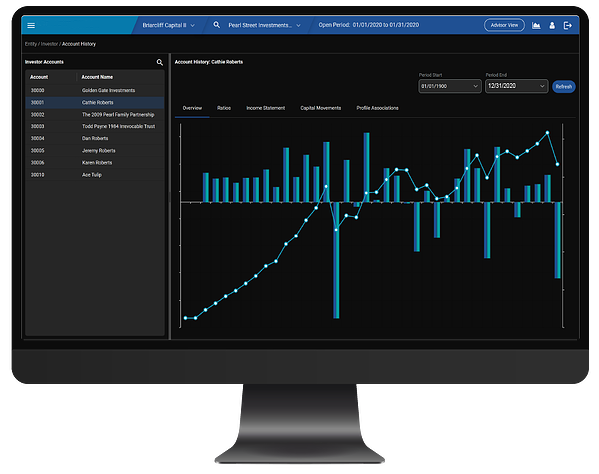 Flexible layouts for your needs
Configurable data views
Choose from allocation, holdings, performance, account balance, expense and cash summary views as you curate a unique portal experience.
User-controlled data analysis
Allows you to analyze your financial information through various lenses including user-defined data groupings and ad hoc consolidation across entities and accounts.
A cutting-edge reporting experience that goes beyond paper
Relevant, interactive reporting dashboards
Access to your multi-dimensional net worth, investment performance, allocation and account balance data through custom dashboards and adjustable, on-screen reporting to maximize engagement and insight.
On-demand access anywhere, anytime
View consolidated financial details across accounts, managers and investments – when they need it, where they need it, how they need it.
Secure document storage
Deliver traditional financial report packages and external documents like partnership agreements, account records and alternative investment statements through a secure, easy-to-use document manager.